The Pageant Seating Chart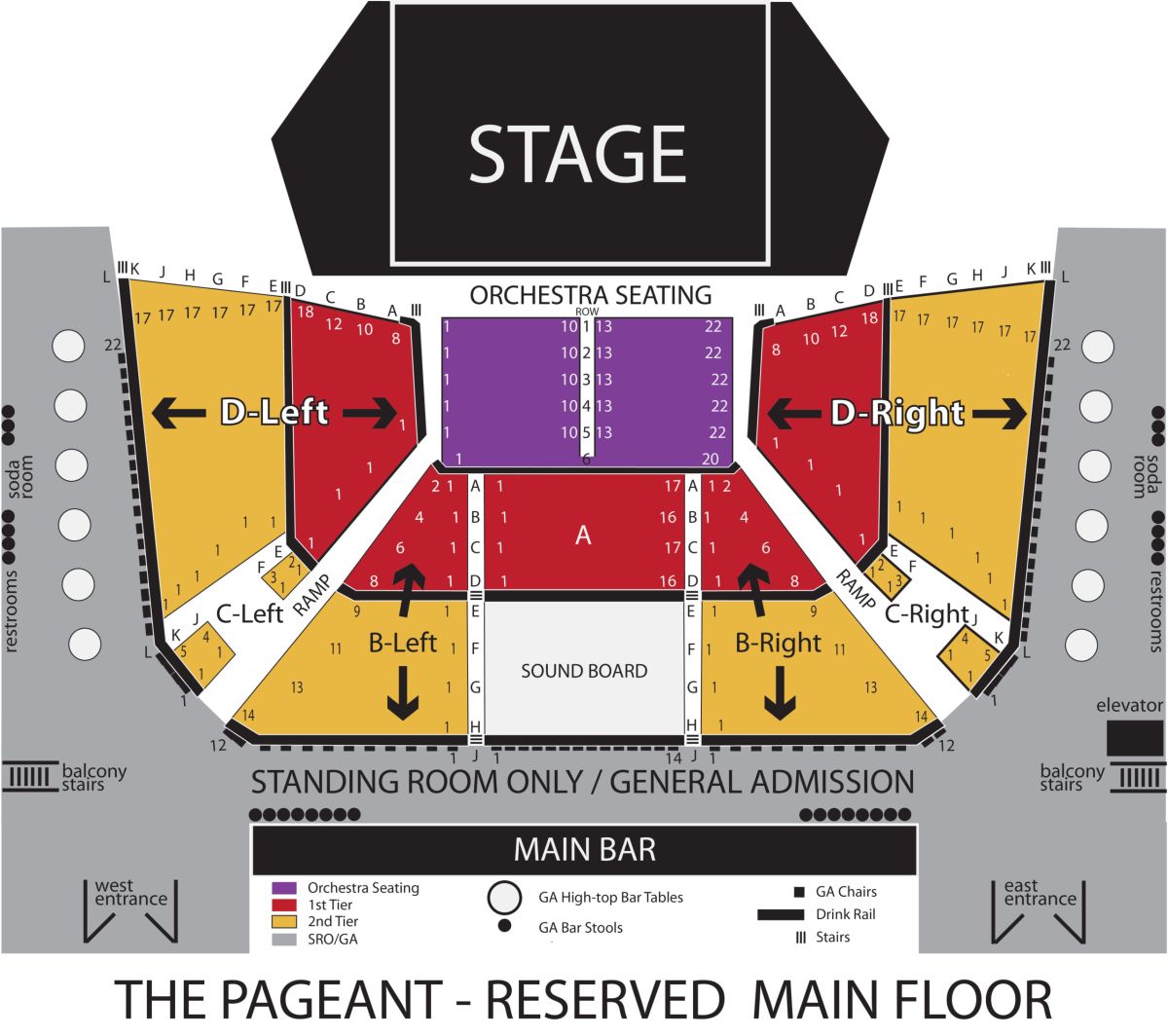 The Pageant is designed with reserved seating shows for 750 guests. There are some standing room only events that can go to over 2000 guests, but these events area noted in the event description.
General Admission event seating is available on a first come/first serve basis. Often these seats are cabaret style with tall and short tables, chairs, and bar stools. Standing may be necessary if you arrive late or right before the curtain's rise. Seat saving is not allowed.
Balcony seating is above the 2nd Tier of the main floor and has 4 rows of stadium/theatre style seating with cushioned seats and cup holders. Additional chairs and bar stools are located behind the theatre seats.
Balcony theater seats are reserved unless otherwise noted on the venue's Calendar's specific show listing. While a Balcony Reserved ticket is not required to enter the Balcony, admittance is restricted to those unless otherwise noted. The Balcony is not open for every show.
The Pageant, Delmar Hall, The Halo Bar and Suite 100 are fully accessible. Ramps lead to each tier and an elevator is available for use in The Pageant.
Please contact the venue (314.726.6161) prior to the day of the event if you need to make special arrangements (special needs seating, etc.). You should give the venue as much advance notice as possible so they can accommodate you accordingly.
NOTE: The The Pageant at Delmar Hall seating chart displayed above can vary depending on the type of event. Some events may require unique or varied seating arrangements. When selecting your tickets you will be able to see the specific seating arrangement for that event.
Secure your desired tickets today by clicking 'Buy Tickets' next to any event and you can start selecting. Read more via the The Pageant schedule for latest schedule of events.
Read more here ticket information page for ticket policies and guarantees.